Granite Countertop Care: A Basic Maintenance Guide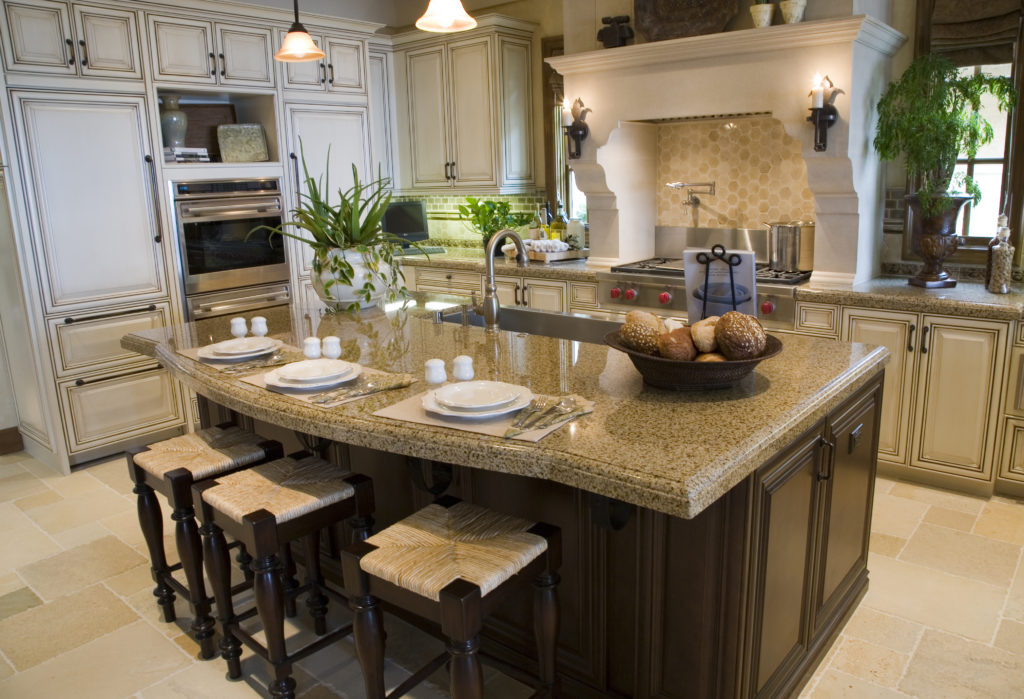 A granite countertop just oozes class and sophistication. Simply replacing a kitchen's countertops with granite will elevate the entire space. Unlike other countertop materials, which may wither and fade with age, granite maintains its beauty and luster for years to come. This doesn't mean, however, that you should never maintain your granite countertops. To make it easier, the Eleganzza Granite team has outlined a few maintenance tips every homeowner should know. If you follow these suggestions, your granite countertops will always look great!
1.) Clean Up Spills As Soon as Possible
If your granite countertop is from Eleganzza Granite, odds are it's already been sealed. Although sealing stops the porous material from sucking up any liquid or humidity, it doesn't mean any regular spill will simply evaporate if left alone. As soon as you spill something on the countertop, make sure to clean it up. Failing to do so can lead to stains on the surface of the granite. This is particularly true for acidic substances, including coffee, tomato sauce, and wine. Simply wipe up these spills as they happen and your countertop will look fresh and clean!
2.) Understand the Right Way of Cleaning Granite Countertops
Cleaning the countertops after a day of cooking can be as easy as wiping them with a wet sponge or soft cloth. Hot water is the best option, but make sure to not use dish soap. If you really want to use dish soap, only using sparingly as it can create a build-up that will then dull your granite's shine.
If you want to take cleaning to a new level, then you should consider investing in a well-reviewed granite spray. There are many granite cleaning sprays available that can help maintain your countertop's beauty.
3.) Avoid Certain Cleaners
Granite is incredibly resilient, especially with sealant. This doesn't mean, however, that you can use any old cleaner on the granite countertop. Whether you have granite countertops in your kitchen or bathroom, make sure to avoid using vinegar or ammonia as cleaners. These products may be trusty cleaners for other spots in your home, but they can cause issues. Simply using warm water with a soft cloth is enough to maintain a clean countertop.
4.) Put Something Between Your Countertop and Pots and Pans
Most homeowners know that granite countertops can face high temperatures without breaking a sweat. While the idea of placing a piping hot pan on your granite countertop may sound convenient, it's not a good habit to develop. Instead, make sure to place trivets or hot pads under any hot pots or pans. Yes, granite is resilient but it can actually suffer from something known as thermal shock which can lead to cracks. Although this not too common, it's something that could be easily avoidable if you simply place something between the countertop and the hot pan.
4.5.) Use a Cutting Board
Also, don't use your entire countertop as a cutting board! It may seem resilient (in fact, it is!) but using it as a cutting board is not a good idea for your knives. The granite countertop will dull the knife, damaging the edges. You can avoid this by simply using a regular cutting board when making dinner.
5.) Choose a Reputable Granite Countertop Team
Eleganzza Granite is well-known through the El Paso region for our high-quality granite services. We've been building beautiful granite countertops for kitchens, bathrooms, offices, and so much more. Simply put, we know our way around a granite slab. If your countertop doesn't look as beautiful as it once did, then give us a call. We're always happy to provide some tips and tricks to help you take your granite countertop to the next level.
If your countertop gets damaged for any reason, then reach out to us as soon as possible. Although granite is very tough, it's not diamond so it can crack or even break. A large crack on your granite countertop will make it look very undesirable, which is why it's necessary to take care of the issue sooner rather than later. Since we build granite countertops, we know how to fix cracks and other issues. But don't fret, you can rest easy knowing your granite countertop will look great for years to come.
Contact Eleganzza Granite, Today!
Whether you've been flirting with the idea of renovating your kitchen with granite countertops or you're already used to the beauty and splendor of granite but you'd like to introduce the material to other rooms in your home, then we can help. Contact the team at Eleganzza Granite team today to learn more about what we can do for you!
Like this content? Share it here!