Granite Versus Quartz Countertops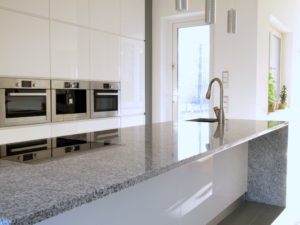 Granite remains a timeless choice for kitchen countertops. However, quartz countertops are rising in popularity as well. Choosing between the two stones can be difficult if you don't know much about them. Check out this information and list of pros and cons for both. Hopefully this will help you make an educated decision.
What is the Difference?
Granite countertops are made from pure granite stones. The stone is sawed and polished for a finished look. The color and designs are natural and it makes for a hard countertop. Most people love this material because it is very durable. Many homeowners brag of cutting right onto the countertop. Quartz on the other hand, while made with natural quartz is still considered engineered stone. It is made from crushed quartz then mixed with pigment and resin.
Which is Better?
Choosing which is better is a matter of preference and needs. Granite countertops will always provide a more authentic stone look. Hues can range from tans and browns to shades or blues and green. If you want something with more versatility or more selection Quartz is the way to go. The coloring tends to be more consistent because it is manufactured. Not only that, it comes in a wide variety of shades.
Which is More Durable?
Because both Quartz and granite countertops are made from stone, they are both very durable but have weaknesses. Granite has to be sealed at installation. After regular use it has to continually be sealed on a regular basis. If this care is not applied, it can stain rather easily. Quartz does not require such upkeep but it is also not as tough. Both stone countertops will last a good 25-30 years.
What About Cost?
The cost of quartz and granite countertops is comparable. Both range between $80 to $175 per square foot. The price will depend on color, selection, and size of your kitchen. Whether you choose high end materials will make a difference as well.
Visit Us Today
If you would like to get started installing new quartz or granite countertops, we offer quality customer service at Eleganzza Granite Inc.. We actually carry a wide range of materials in our inventory. Contact us today for more info! One of our experts will be happy to answer your questions or set you up with an appointment to collect measurements and start on a quote.
Like this content? Share it here!