How to Choose the Best Kitchen Countertops in El Paso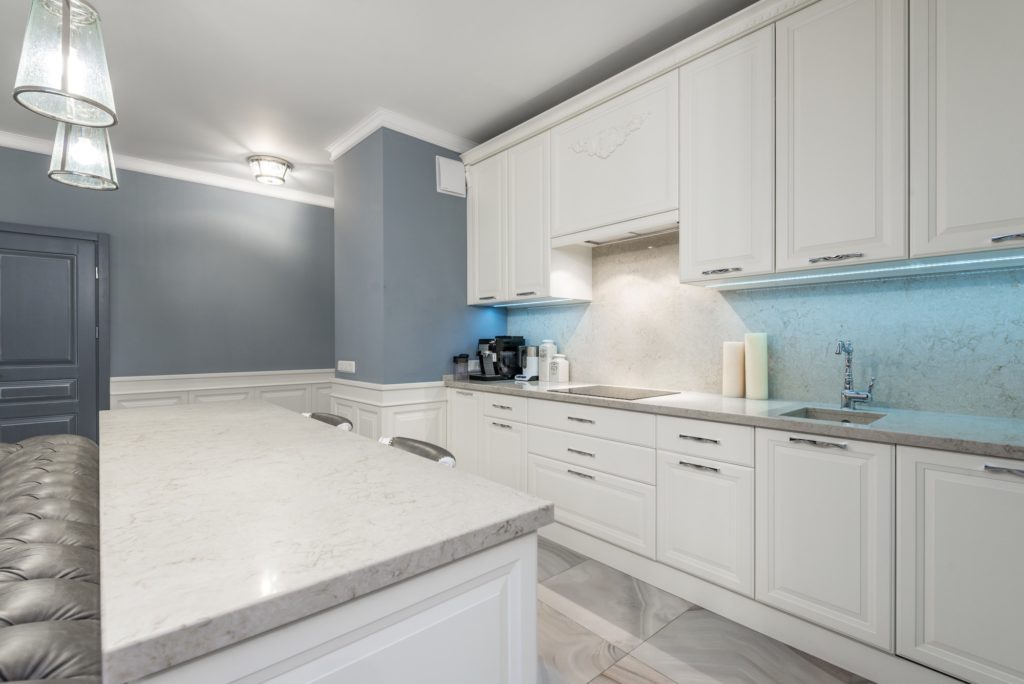 Countertops are a basic element of any kitchen. They play a vital role in how you will use your kitchen and how it will match your home decor. However, choosing the best kitchen countertops in El Paso can be overwhelming as there are many things to consider when choosing the right option for your kitchen. 
No one wants to pay again and again for big installations and renovations. To help you with your decision, Eleganzza Granite has compiled some of the considerations that you need to keep in mind when choosing the best kitchen countertop for your El Paso home.
Your Budget
Countertop materials come in a wide range of prices. However, a good kitchen countertop can last a lifetime if it is well-maintained. We advise selecting your dream countertops, then looking for a version within your price range. For instance, you might adore the appearance of marble but find the cost too high. Quartz has a similar appearance but costs a little less.
Spending between 15 and 30 percent of your expenditure on kitchen countertops is a solid general guideline. According to some experts, if you spend less than 15%, the quality might be better than the other materials you're utilizing, but if you spend much more than 30%, you might be going overboard.
Required Maintenance
Regarding maintenance, be truthful and reasonable. Be aware of the maintenance requirements for a certain material before you fall in love with its look. You need to consider the maintenance and conditioning of each substance.
Every year, you should oil and seal porous stones, including limestone, marble, and granite. You should be prepared to seal your countertops once a year. Regular sealing is necessary to prevent severe damage. Other materials, such as quartz, only require a quick wipe down. Be sure to speak with your kitchen countertop contractor about your potential options before settling on one material. 
Space Required
You can estimate the material you'll need by measuring how many feet of countertop space you have available in your kitchen. Compare this with the brands and options offered by various businesses. This will give you a general sense of what it will cost you while choosing one brand or material over another.
Usage of your Kitchen Countertop
Your money will be squandered if you don't choose a material that can survive the regular use of the area. So, consider how you and your family make use of your kitchen. Use butcher's block for part of your counters to create a built-in cutting board if you chop many ingredients when you cook. If you frequently bake, you may also utilize a marble countertop area to work with the dough.
You can cut costs by combining and contrasting the materials used for your kitchen countertops. For instance, you might install a less expensive material on a big island. Next, you can spend a little additional cash on nearby countertops that require less space.
The Aesthetics of Your Home
The next question on everyone's mind is, "What will suit my kitchen?" Instead of picking a  color or shade that closely resembles the cabinets, consider one that contrasts or coincides with them. Examples are black granite on painted white cabinets offering contrasting or brown countertops on natural white wood cabinets as a matched design. Having countertops that work with everything is smart because paint and accessories might change over time. 
El Paso Kitchen Countertops
Choosing the best El Paso kitchen countertop for your kitchen remodeling is tough, given the many considerations and variety available in the market. However, to make the right choice, it is best to consider the thoughts mentioned above, so you don't regret your decision later. 
If you are looking for a custom kitchen countertop company, you can contact Eleganzza Granite at (915) 867-0727 for the kitchen countertop of your dreams!
Like this content? Share it here!