Explore These Outdoor Kitchen Countertops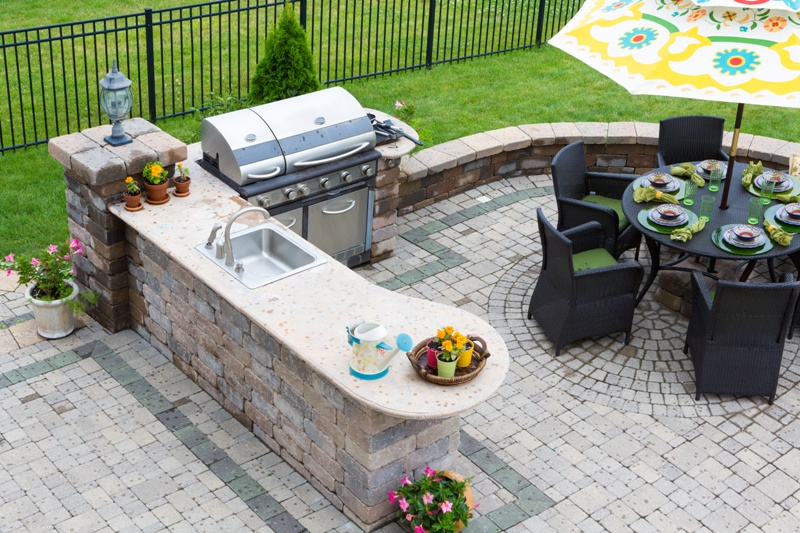 Tired of the dusty weather? Us too! That's why we're moving our attention toward what'll soon be here: summer. Once El Paso's infamous windy days are long gone, we'll be basking in the heat, most likely with a cool drink in hand. We all know how warm El Paso's summers can get but we also know that we're fortunate to live in a city where so long as you have a little shade, the temperature feels great. Plus, unlike other Texas cities, we don't have to worry about high humidity levels.
Now that you have summer on your mind and are perhaps imaging hanging out outdoors, it's time to take that thought a step further. What does your backyard situation look like? Do you have an area to host guests or your own family for an outdoor gathering? If the answer is no or somewhat, then it's time to change that!
Why an Outdoor Kitchen Area?
New homes are keen on doing one thing right: blending the outdoors with the indoors. Homes with an easy transition between the outside and let's say the living room create a much wider space. In addition to making the home appear much larger, a wider space also allows homeowners to do more with what they have. From sitting on the back patio with a good book while still being able to watch your kids playing in the living room to hosting a barbecue with plenty of sitting space, having the ease of moving in and out makes everything much more convenient.
When it comes to an outdoor kitchen, not only will you have an awesome area for grilling on the weekends but if you spend your days cooped up in an office Monday through Friday, 9 to 5, then cooking dinner outdoors on weeknights will give you that time with nature that's lacking.
It's been scientifically proven: spending more time outdoors is good for you! According to a report from the University of East Anglia in Norwich, exposure to the outdoors, specifically spending more time with nature, is a health booster. It can reduce the risk of Type 2 diabetes, cardiovascular disease, premature death, and it can improve your sleeping habits.
Bringing the Kitchen Outdoors With These Countertop Options
So now that we know spending more time outdoors is good for us, it's time to explore how we can bring the kitchen outdoors so you can have the perfect dining area.
Here are the kitchen countertops you should consider:
Granite– Yous simply can't go wrong with a granite countertop. Granite is ideal for an outdoor kitchen because of its natural aesthetic. Since its a naturally-created stone, this type of countertop looks great with many styles of backyard spaces. It also comes in different color options, from a traditional Venetian Gold to a modern Galaxy Black. Just tell us what you have in mind!
Quartz– Unlike granite (a rock), quartz (a mineral) is a man-made material that uses engineered stone. However, even as a man-made material, its aesthetic appeal is large. Quartz resembles marble and thus creates a sophisticated look, especially for countertops. Due to its engineering, quartz doesn't require sealing and as a bonus, you won't have to worry about chipping or cracking. It's resistant to scratches too!
Create the Outdoor Kitchen of Your Dream
Ready to get started? Eleganzza is ready to bring your vision of an outdoor kitchen countertop to life, no matter the size or shape. As one of El Paso's leading suppliers of granite and other countertop material, our expertise will guarantee a long lasting finished product. Connect with us today to learn more.
Like this content? Share it here!