Kitchen Designs for Custom Cabinets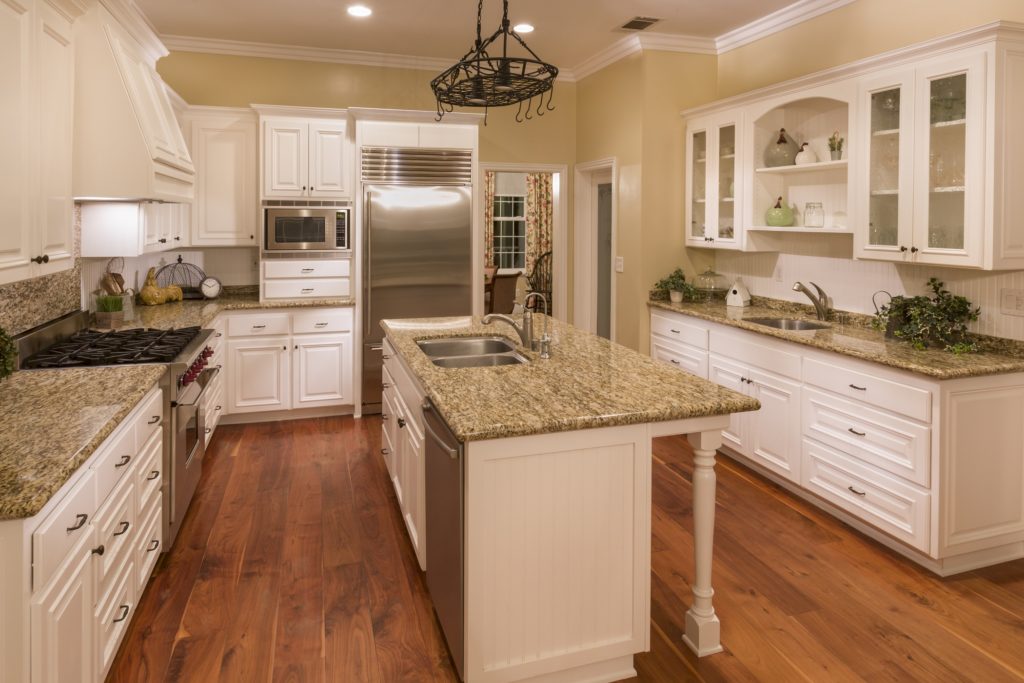 The kitchen is the heart of the home — that is why it is the most important room in the house when it comes to your family. When it comes to remodeling your kitchen, it's important to work with a team who understand exactly what you want so you are fully satisfied with the results. A kitchen's design involves many things, and one of the most obvious aspects of design are the cabinets. At Eleganzza Granite, Inc., we offer custom cabinets designed to meet your exact needs and tastes. Cabinets can make or break a kitchen, so it's important to choose a style that can withstand time and trends. Our designers can do just that!
Current Cabinet Designs to Consider
Kitchens cabinets are taking an exciting and bold move in 2018. As open concept home layouts become the norm, the kitchen is taking center stage. In response, kitchens are styled to be sleek and modern in order to easily blend with the house's style and design. Many current trends are taking this to heart.
No More Hard to Reach Cabinets
More and more, people are removing high cabinets in favor of open wall space. Since high cabinets can be hard to reach for most people, it's better to do without them. This creates an open, uncluttered look that easily flows with the rest of the house. If you are worried about the loss of storage space, customs cabinets can be designed to make up for the loss.
Bold Color Choices
In the last couple of years, it was popular to leave wooden cabinets looking unfinished. That meant a simple stain that showed off the type of wood you chose. Now, it can make a kitchen look dated. A trend in bold jewel tones on kitchen cabinets is taking place. Popular colors include dark green, plum, navy and even black in some cases. However, before you jump on the bandwagon, make sure your kitchen has space and enough natural light. Otherwise, the bold color can actually make your kitchen look small and dark.
Classic Kitchen Styles That Never Get Old
Sometimes, it pays off to avoid current trends in favor of a classic style that will keep your kitchen current while trends come and go. By using custom cabinets to base your design on, you can create a kitchen with enduring style. Going with the classics can save you the trouble of having to redesign your kitchen in five or six years to keep it current.
Choose Gray or White Cabinets
Having gray or white cabinets can make your kitchen look sleek and sophisticated. It also provides an easy backdrop if you decide to change the room's color or decor. These colors allow you to choose what part of your kitchen will be the focal point, easily showing off a great backsplash design or granite countertops.
Subway Tile Backsplash
White subway tile is a classic and clean look that will complement any color scheme you choose for your kitchen. It's easy to clean, and using gray or beige grout can hide dirt and give a nice, neutral contrast. Sometimes the most simple form of design can make the biggest statement.
Contact Eleganzza Granite Inc. for the Perfect Custom Cabinets
No matter whether you choose to go for the trendy kitchen look or if you prefer to keep it clean and classic, Eleganzza Granite, Inc. has the quality custom cabinets to make it work. Contact us today to get started!
Article tagged as:
cabinet material
,
custom cabinet material
,
custom cabinets
,
custom cabinets in el paso tx
,
el paso cabinet contractor
,
el paso contractor
,
el paso kitchen remodel
,
installing new cabinets
,
remodeling your kitchen
,
wood
,
wood for cabinets
Like this content? Share it here!