Redesign Your Kitchen: From White Quartz Elegance to Dark Granite Allure
Design Your Kitchen: From White Quartz Elegance to Dark Granite
Here's the great thing about custom-made countertops. You are essentially the designer. The kind of countertops that best suit your kitchen is determined by the atmosphere you are trying to set. We have installed countertops in kitchens with a modern and industrial design to a traditional and even rustic design. The material's timelessness and beauty accentuate your design. So here's one way to think about it. If your kitchen is drab, dull, and unimaginative, you can inject inspiration into it by changing just a few things. You can go from a drab kitchen and transform it by putting on your designer hat and envisioning the kitchen you want and the vibe you seek to create.
Transform Your Kitchen By Changing only Two Things
You can transform your kitchen in a hundred different ways. You can have a complete and full-body renovation, where the kitchen layout is altered and shifted and maybe even a new kitchen island is installed, or you can make a few adjustments that achieve an incredible result. If you're looking for a complete remodel, custom countertops should be at the top of your list, as they are the most eye-catching feature of any kitchen. You may also be looking to simply give your kitchen a whole new wardrobe, a transformation that is more than skin deep but does not require you tearing out cabinet space or redoing your entire floor. You can transform your kitchen by changing only two features:
Simply changing out old and scratched countertops for elegant stone and repainting your cabinets will completely alter the entire look of your kitchen. Beautiful countertops and a new paint job and voila, you have a newly re-designed kitchen.
Two Fashionable Countertop Options
Changing out countertops will make a world of difference, but there are more options out there than you might think. Let's look at two:
White Quartz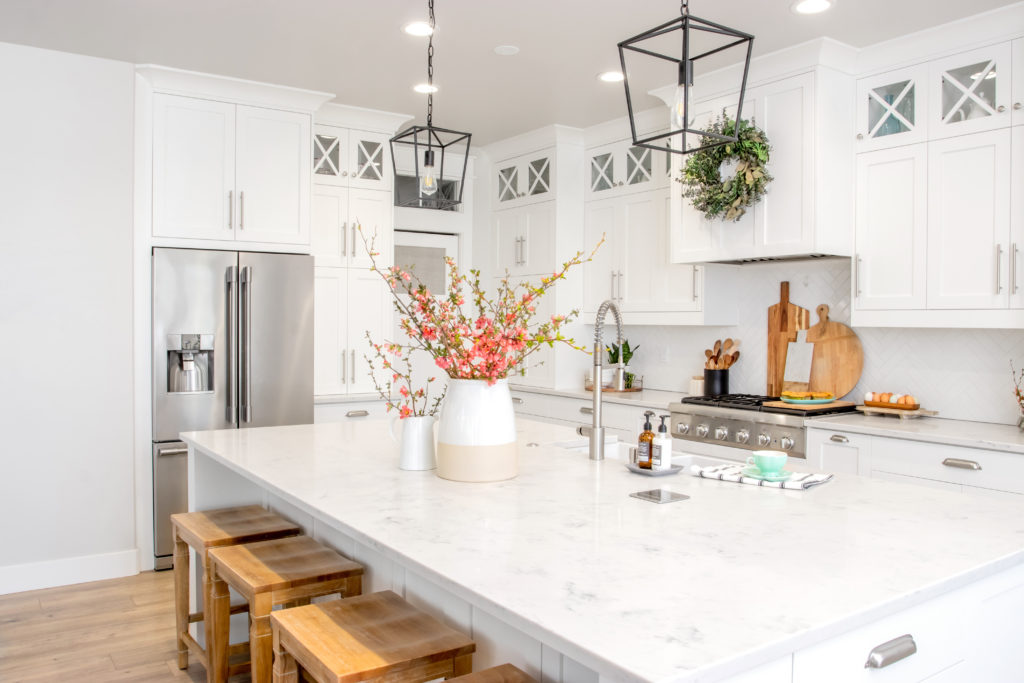 First of all, what is quartz?
The igneous rock otherwise known as quartz is composed of oxygen and silicon atoms in a continuous makeup of silicon-oxygen tetrahedra. Quartz is an abundant mineral and comes in many different types. The quartz you see on countertops is a type of engineered stone that contains a high percentage of this incredible mineral with added compounds to create what we typically think of when we think of quartz countertops. There is about 10% of the material that isn't composed of stone but other aggregates that give quartz its texture and unique features. It is why the material is often referred to as man-made. Not because it is unauthentic but because it is not 100% natural stone. It does have natural stone as its main component, however, which gives it a beautiful natural shine.
The quartz industry has experimented with adding various other materials to the quartz to create a unique blend with characteristics that make the quartz stand out.
What colors are possible with this material?
There are plenty of color options with quartz. One popular option is brilliant white quartz that brightens up any kitchen. If you are looking to illuminate your kitchen with a vibrant material, consider using white quartz.
Golden Crystal Granite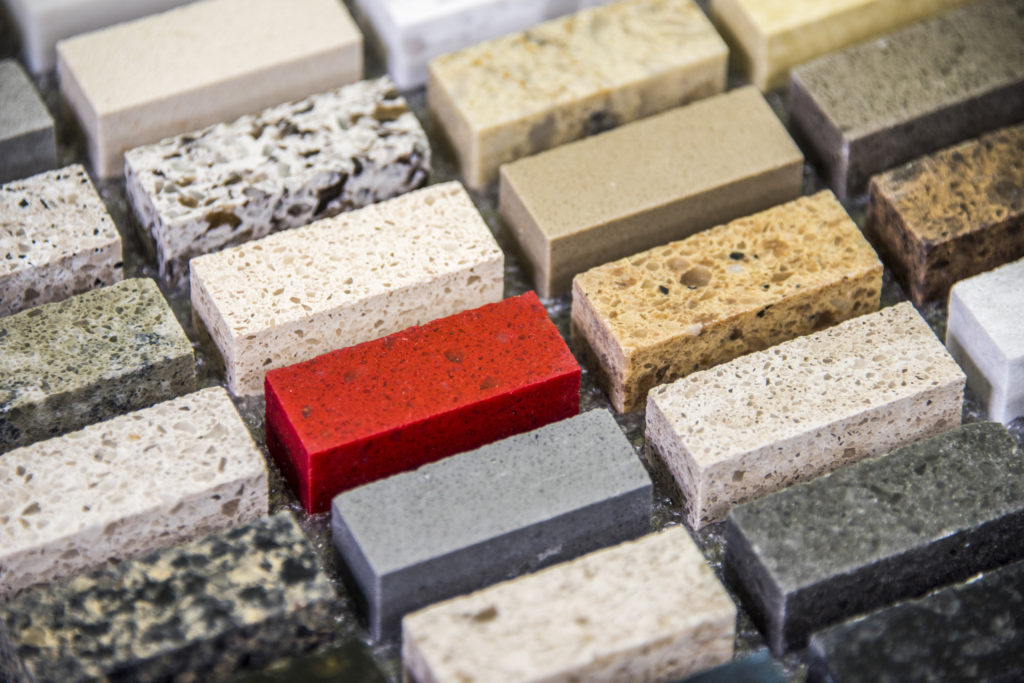 This light-colored and sought-out igneous rock is a natural stone derived from deep within the planet's surface. It is composed of quartz and feldspar with other minerals like mica. The unique composition is what gives granite its colors and shades. Granite is a common stone in nature and it's part of why so many people recognize it and why it maintains its place as one of the most desired natural stones. Granite slabs can be cut in all shapes. It is a flexible stone that provides everlasting beauty and never grows old. Its longevity is part of the value of obtaining granite countertops.
Golden Gray Granite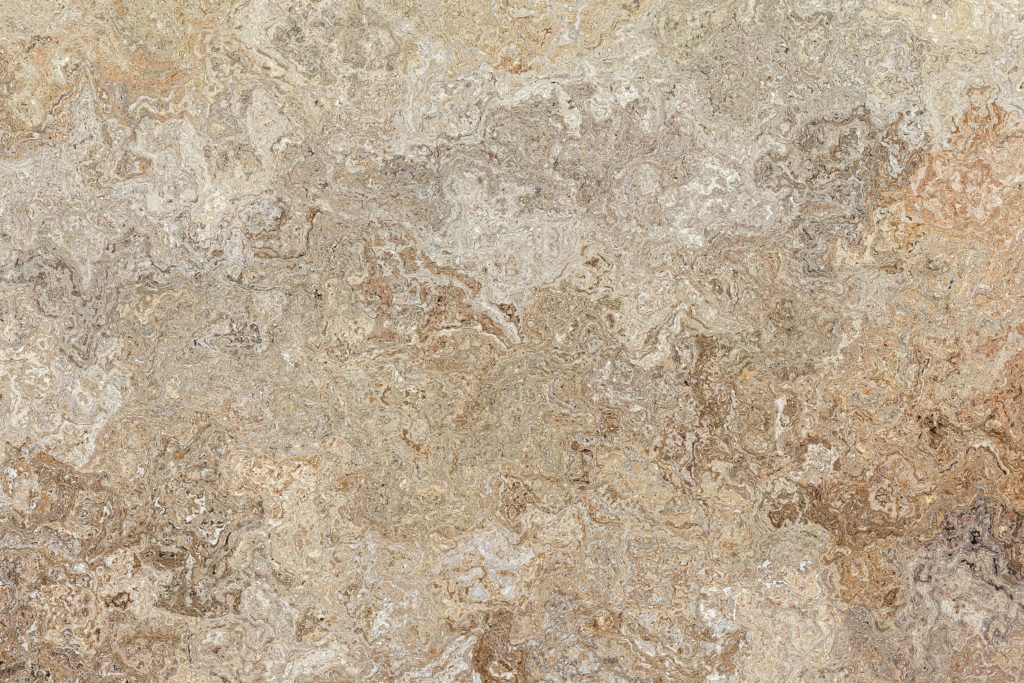 This unmistakable shade is one of the most favorite and spectacular shades of the stone. It is also known as Golden Gray granite. It is a desired stone because of its golden brown appearance, often with sprinkled shades of gray. If you're going for a rustic look or have wood cabinets, Golden Gray granite countertops will seamlessly complement your kitchen.
Quick Cabinet Tips to Go With Your New Countertops
Adding to your beautiful countertops, a quick touch-up or new style to your cabinets can bring new life to the entire kitchen. You can:
Repaint your kitchen cabinets

Add under cabinet lighting

Reface kitchen cabinets

Add cabinet crown molding

Add more kitchen cabinets and storage
A new paint detail will be the perfect companion to brand new countertops. A few paint ideas include:
Crackle paint style. This adds a little flair to your dull cabinets.

Distressed. For a vintage or rustic look, this will go quite well.

Antiqued. This provides a traditional look.

High gloss: This adds some shine and is a great protector of cabinets.
Redesign Your Kitchen With Custom Countertops
Whether you are doing a full-scale remodel or a kitchen makeover, new countertops are a must. You want to get materials that look great but also last and enhance the kitchen you envision.
Ready to transform your kitchen? Learn more about granite and quartz countertop options at Eleganzza Granite. Call us today! We want to hear from you.