Why Quartz and Granite are the First Choice for Bathroom Elegance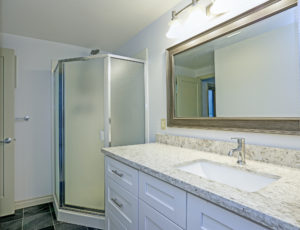 Today's homeowner thinks a lot about the kitchen and their bathroom. The reason? Well, as it turns out these are two very important spaces in one's home, as a lot of essential activities take place there, but more so than that, these are the rooms that add more value to a home and really take it over the edge. For homeowners looking to enhance their home, kitchen and bathroom remodels are one common way to do it, as a fresh bathroom or kitchen can immediately transform the entire house. So this month let's talk bathrooms and all the wonderful things you can do with granite and quartz to revitalize your bathroom.
Thanks to modern techniques and installations, anything is possible in any size. Whether you have a small bathroom or a bigger bathroom, small cabinets, or big cabinets, or whether you are looking for a minimalist vanity or an ornate elegant vanity top, natural stone can do everything you envision and more. No matter the style, size, or layout of your bathroom, there is a way to transform it with granite and or quartz.
For a modern and stylish bathroom today, people often turn to these popular options:
Quartz/Granite sinks. Sinks made out of quartz or granite can achieve a very modern and sleek look.
Quartz/Granite vanity tops and vanities. And who doesn't love a beautiful vanity? Today, achieving a luxurious natural stone vanity that illuminates the entire bathroom.
Quartz/Granite countertops. This is another common go-to. Just as people choose quartz and granite for their kitchen countertops, they will also use them in the bathroom.
A Quick History of the Beloved Vanity
The original bathroom vanities were quite different from what we likely think of today. In today's modern vanities, we often see lavish and illustrious spaces where people ready themselves to meet the world. The very first vanities were stand-alone washstands. This meant they were pretty much a small table with a deep bowl. These were pre-plumbing days, of course. As plumbing came into play and the bathroom became far more private, the vanity played a bigger role as the centerpiece of the bathroom. As bathrooms became private and evolved into sinks that connected to the wall with plumbing, the design continued to change. In the Victorian Era, the neoclassical designs came into play as the long-legged pedestal sinks, often ornate, came into existence. Soon the vanities became furnishings as drawers and space were used to store necessary bathroom items. Today, many homes feature a more traditional Victorian-style vanity. And while it has traded the traditional ornate designs for simpler more symmetrical shapes, the function and beauty of these remain the same. Using natural stone on your vanity or vanity top puts an immediate layer of luxury.
Benefits of granite countertops for your bathroom:
Granite can be cut in any direction and stained in nearly any color.

Very strong and reliable material

Great material for moisture-filled areas and water-resistant

Fantastic color options

Also environmentally friendly
Long-lasting Investment
Whether you are using natural stone for your bathroom or kitchen, one of the draws of the material—aside from its everlasting beauty— is its durability and resistance. Not to mention a granite or quartz countertop is a meaningful and long-lasting investment. The stone is sturdy and will last a lifetime. It does not easily deteriorate, even with frequent moisture.
Get Quartz in Your Shower Walls
If you really want to go all out and make a statement of sophistication and splendor, consider the option of replacing your shower walls with this amazing stone. If you are looking to replace your shower, it might be due to mold or the need for something far different. And everyone knows the pains of a moldy shower.
A quick note on mold and mildew…
Showers are ripe places for mold. Because of the frequent humidity and moisture, if the surfaces are not often properly cleaned or dried, then mildew begins to form. Mildew is the beginning of mold and boy does it like to grow in small nooks and crannies and deep corners of the tile.
So back to the shower walls. This is why having quartz as a material can save you lots of headaches for years and years to come. With quartz showers there are few to no seams and cleaning the surface is a breeze. That is, of course, in addition to the undeniable feeling of luxury and beauty that happens when you step into a bathroom with quartz.
Get The Elegant Bathroom You Envision With Beautiful Natural Stone
Eleganzza Granite specializes in the timeless natural stone of granite and quartz. Whether your bathroom is a more traditional layout or a flashy modern design, natural stone fits right in. Call us today and find out more about how we can transform your bathroom.
Like this content? Share it here!