7 Survival Tips for Your Kitchen Remodel: How to Stay Calm and Enjoy the Craftsmanship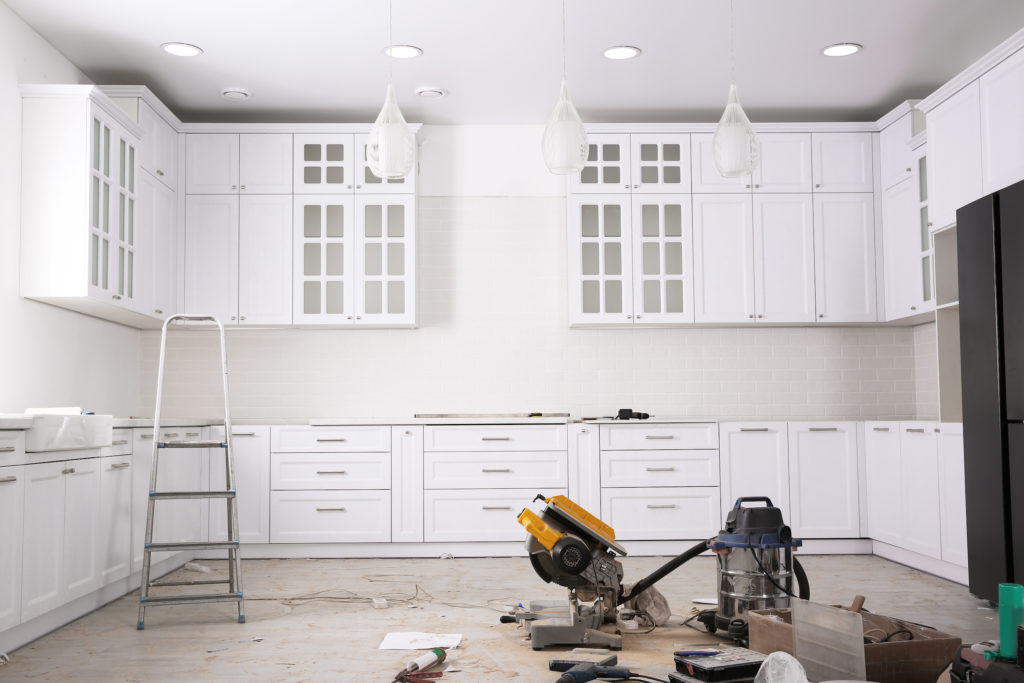 If washing dishes in a bathtub and subsisting on Doritos and dry cereal is not your idea of improvement, this post is for you. The dark side of kitchen remodels not often fleshed out in the beautiful after pictures are the time in between when your kitchen is in utter chaos. Without proper planning, potato chips could end up being your main meal for the next few days or even weeks (depending on the size of your overhaul). And this can't be good for your weight or cholesterol levels.
So how do you stop this from happening?
We got survival tips.
Organize a Plan and Survive Your Kitchen Remodel — There Will Be Sawdust
Tearing out a kitchen is no task for the faint of heart. Whether you're getting new granite countertops or completely redoing the kitchen layout, preparation is the ticket to maintaining healthy blood pressure. Because there will be sawdust. There will be setbacks. There will be noise.
And with today's supply chain issues, there might be delays.
And while suddenly finding yourself barefoot and in pajamas in the midst of a construction site is not out of the ordinary, the first step is to embrace it.
Well, actually the first step is to hire professionals, but you already knew that.
Embarking on this journey with someone you're not entirely sure about is not advisable. Make sure your contractors are pros. Vet the company and verify that they are insured. See to it that there has been ample communication that clearly lays out the final result, the expectations, and the estimated timetables.
Survival Tip #1 Remember Why You're Doing This
Before and during the bulk of the work, you have to remember that the result will be worth it. Embracing the process is one way to keep the stress from seeping in as you begin to see things torn out in your kitchen. Your beautiful granite countertops and kitchen will make it all worth it in the end.
Create a game plan for the whole family so everyone knows how to expect. If you stay ahead of the game, you can minimize the occasions of a fussy teenager complaining about how hungry they are or kids eating way too many Pop-Tarts. Many families use this as an opportunity to work out their grilling skills, planning simple meals, or trying out new meal ideas. Adding occasional take-out food or bulking up on prepared meals and snacks is also part of the budget.
In the end, approach it with a positive attitude. You're watching craftsmanship at work. You're beautifying your house. This should be a fun adventure!
Survival Tip #2 Organize Your Kitchen
Alright, now we get to the meat of the survival plan. Before any work is done in your kitchen, clear out the contents as much as possible. Organize your kitchen into categories and set it off the side. You can do this in the garage.
Here's an example:
Set out silverware and dishes and organize them in a box. Put the box in your garage or set it off somewhere out of the way. You won't be needing many dishes (if any dishes at all) while construction is happening, but organizing it makes the transition back much easier.
Categories are things like:
Temporary Kitchen: This will include items you might use in your temporary kitchen (see survival tip #3). It can include a toaster, plasticware, snacks, etc. If you have access to a mini fridge this may not be a bad idea.
Kitchenware: This includes pots, pans, baking sheets, and all things that won't be used while construction is happening. Keep this organized and out of the way. The more you organize your kitchen necessities, the faster organizing your kitchen will go.
Donation Box: And while you're doing some organizing, those random items in your kitchen began to emerge. Suddenly, you encounter items, utensils, or tools that you have never used and probably don't remember buying. The point is, now is a good time to clear this out and send some stuff off to the donation box.
Survival Tip #3 Set Up a Mini Temporary Kitchen
Having no kitchen means that you have to prepare your meals somewhere. Don't just wing it. Designate a spot and get organized. So plan to have simple meals that cause little mess and make things easier on the whole family. Your menu items will likely include sandwiches, instant noodles, instant soups, and some fruit. Prepare for this and create a mini kitchen in the living room, mini bar, the garage, laundry room, wherever fits. If you have access to a mini-fridge, even better. And don't forget to factor in plastic or disposable bowls and plates, although as an environmentally-conscious individual you likely don't want to overdo it. Your temporary kitchen can include items such as:
Mini fridge

Toaster

Small microwave

Easily accessible snacks such as protein bars, cereal bars, dried fruit, etc.

Plasticware, plastic utensils, etc

Coffee makers or instant coffee

Cups, mugs, or juice boxes
Survival Tip #
4 Don't Forget About the Pets
You likely don't want your dog wandering into the construction site in the middle of your home, so move their food bowls and water bowls to a comfortable area of the home.
Keep your pet comfortable by shifting their rest areas, water bowls, food bowls, beds, or other hang-out spots to a different place in the home. Consider crates while the workers are around to keep your pet calm and away from the noise. If your pet is not the crate type, maybe take them out into the yard or set up a comfortable spot in the laundry room. These are the details that will keep things flowing smoothly and the family happier.
Work With Professionals and Craftsmen That You Trust
A kitchen remodel doesn't happen overnight, but a professional crew is the best guarantee that things go off without a glitch. Even then, having contingency plans for a lack of material or short delays can derail people quickly. So the best antidote to chaos is planning and preparation.
In the end, the timeless beauty of new granite countertops, quartz countertops, or slick new cabinets will make the adventure worth it.
Thinking about a kitchen remodel? Maybe looking into gorgeous countertops with natural beauty like granite or marble? Call Eleganzza Granite today.