Granite is the Outdoor Kitchen Countertop Material of Choice — Here's Why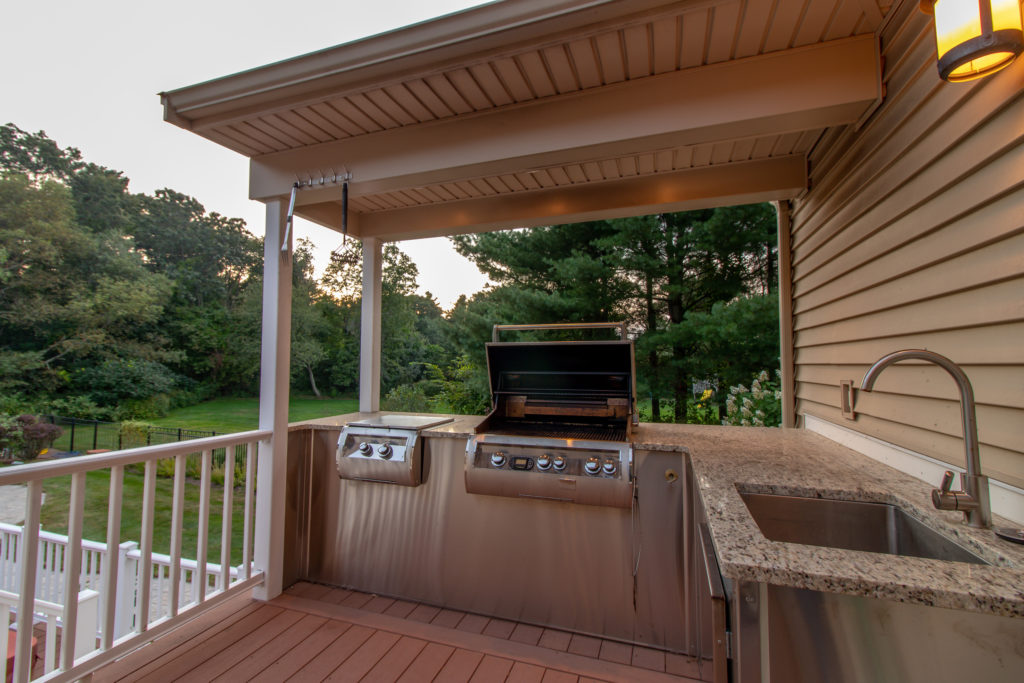 The requests for outdoor living spaces skyrocketed in 2020 and 2021. As society shut down and people found themselves in their homes, their backyards and patios became the sanctuaries they may have taken for granted. So, many homeowners began maximizing the outdoor space they had available and exploring options for making it a functional and beautiful space. For homeowners, an outdoor kitchen was suddenly on the top of the list of home renovations.
So what should you know about outdoor kitchens and outdoor kitchen countertops? We detail it below.
The Art of Outdoor Kitchens
The underlying principle behind an elegant and functional outdoor kitchen is that it mimics an indoor kitchen or dining room with its functionality but manages to infuse the space with the openness and beauty that is offered by the great outdoors.
A top-of-the-line outdoor kitchen must then possess the features and characteristics that make any kitchen desirable. These features are:
Cabinet space

Counter space

Functionality

Working layout

Resiliency and durability
Additional features may include an outdoor bar, outdoor heating, and outdoor firepits. In truth, the outdoor kitchen has endless possibilities that allow for comfort, convenience, and functionality in the outdoors. Beyond that, an outdoor kitchen offers a long list of advantages and benefits to the homeowner, both short-term and long-term.
An outdoor kitchen:
Is an entertainment hub, a place that gathers family, friends, coworkers, and provides comfort to those homeowners that enjoy hosting.

It is a lucrative investment that adds value to your home. So whether you plan to stay in your home for two years or ten, building a solid outdoor kitchen is a selling point.
The Durability of Granite
As we have discussed in previous posts, granite is well-known for its beauty and durability. Granite is an igneous rock and a natural stone with exceptional hardness. This stone is composed of the minerals feldspar, quartz, and mica. Granite stone will crystalize from magmas deep in the earth's crust. The stone's formation suggests a certain amount of invincibility, as igneous rocks are those that form when magma and lava solidify.
Why Granite is a Great Material for Outdoor Spaces
As outlined above, granite is a solid and durable stone. It is eye-catching, gorgeous, and elegant. It possesses a timeless presence that is both earthy and resolute. So why is this the right choice for your outdoor kitchen?
#1 Scratch resistance
Kitchen countertops take a lot of beatings. Outdoor kitchens especially, as they are usually the site of large gatherings where many people use the space at once. So whether it's from sharp steak knives or kitchen tools, the granite surface will resist the unsightly scratches that often plague cheaper counter materials.
#2 Withstands extreme temperatures
Not only will this beautiful stone withstand the hustle and bustle of the kitchen, but it will also stand steadfast against any weather conditions you put in front of it. From extreme cold to hot temperatures, granite is not a surface that cracks under pressure. The persistent sun rays so characteristic of the Southwest, are no match for the power of solidified earth stone. Granite does not fade with the sun and is resistant against rain, cold, and every other type of weather.
#3 Stain resistance
And just like it resists the scratches of sharp kitchen utensils and the penetrating rays of the sun, a granite surface is also a safeguard against stains. Granite does not absorb moisture to the point where you have to worry about staining the surface. It is one of the most stain-resistant natural stones. And while it is porous to some degree—all stone is—with the proper sealant, it is almost unstoppable.
#4 Low maintenance
Homeowners don't want an outdoor kitchen that adds another level of chores and cleaning. There is enough to maintain in the interior and exterior of the home. All your granite countertops need in terms of maintenance is a yearly sealant that will maintain the surface integrity and you're good to go.
#5 Solid investment
Did we mention this adds value to your home? According to the National Association of Realtors, an outdoor kitchen is gaining traction when it comes to adding home value. This outdoor amenity made the top list of south-after features of a home.
Transform Your Home with Granite Countertops Indoors or Outdoors
So whether you're looking for outdoor kitchen countertops or indoor kitchen countertops, Eleganzza Granite provides the El Paso area with beautiful granite slabs to fit every style. One of the appeals of granite is that it naturally offers a variety of color options without losing its natural and earthy glow.
Want to learn more about new countertops? Call Eleganzza Granite today.