How to Choose The Right Countertop Material & Colors; The 3 Most Popular Shades of 2021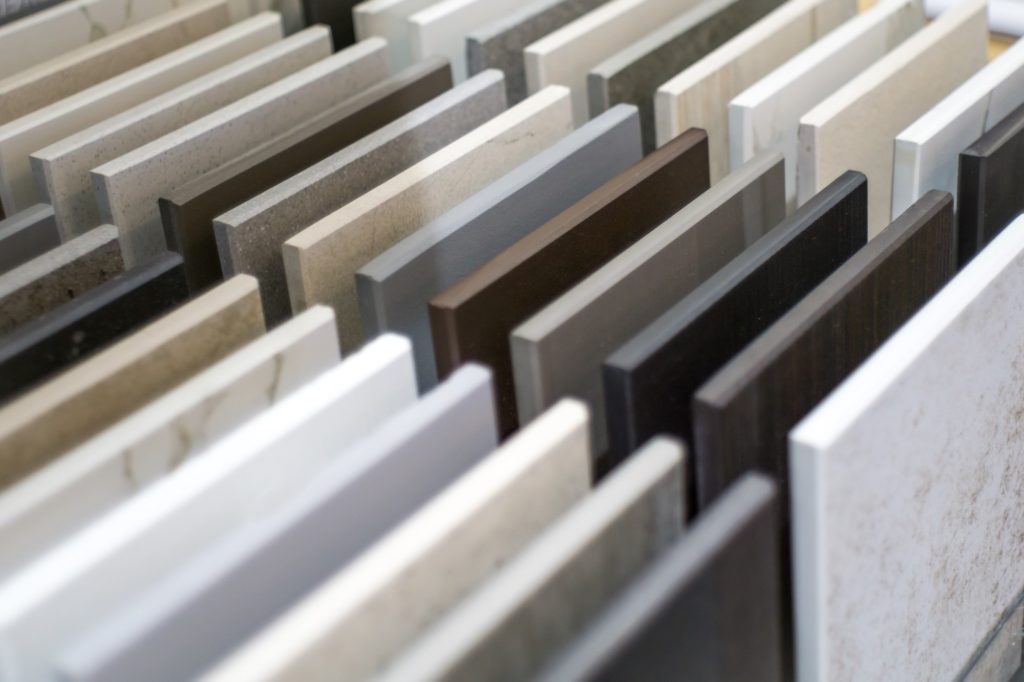 Old and dreary countertops make preparing meals a dull affair. So while making the Christmas dinner, you encounter the scratches, stains, and damage that the surface has withstood after all these years of impromptu meals, you-name-it, and wonder how you could transform the kitchen. Countertops are not accessories. They are central components of a kitchen, both in a functional and aesthetic sense. They define it, color it, and characterize the atmosphere. So how do you choose the right countertop material for your home?
The modern homeowner has a long list of countertop options. There is no shortage of materials and colors to choose from, and this can make the task of new countertops seem a little daunting.
Here's the kicker: the right type of countertop material for your home varies depending on several factors. It's not cut-and-dry, and there are no rules, but taking a little time to consider some external factors will ensure you don't jump on the first offer that you cross paths with.
Assessing the Different Types of Countertop Material and Natural Stones
After years of working in every kitchen imaginable: classic kitchens, old kitchens, contemporary, small, large, and luxury, we have learned that the homeowner is most pleased when the countertops accentuate and emphasize the features of the home and kitchen. The countertops can counterbalance, complement, or define. It all depends on your preference and what you're going for in your home.
A quick summary of some of the most defining aspects are as follows:
Granite: One of the most sought-after natural building materials, an igneous rock with plenty of personality. Its street cred is defined by unshakable strength, durability, and its many variable patterns and shades.
Marble: A formidable competitor to granite, a metamorphic rock that exhibits similar strength, although it is a little softer and therefore more susceptible to staining, it defines its unique qualities through its splashed designs and colorings.
Quartz: A popular man-made contender, mostly defined by its cleaner design patterns and brighter shades, as it is composed of quartz stone. It holds similar weight and lives just as long as the others.
Choosing Granite or Quartz for Their Longevity
Suppose you have a busy kitchen, with a diligent cook and countless activities that involve professional chefs, not-so-professional chefs, and distracted teenagers. In that case, you may opt for a material that is guaranteed to be the strongest against damage and wear and tear. Granite definitely comes up top when it comes to longevity. Quartz comes in a close second, although it is not a natural stone but man-made material. It still has a very natural feel and a timeless glow.
Choosing Marble For Warmth and Majesty
The majestic air that marble brings to any kitchen or bathroom is one of the most common reasons homeowners seek this lustrous material. It may not be as strong in resisting damage, but its soft beauty allures homeowners with older and more modern kitchens alike.
Popular Granite Colors and Styles
Due to its formation through the crystallization of magma beneath the earth's crust, this stone becomes granular and phaneritic in texture. The shade and color of the slab vary depending on what quarry it comes from. Some of the more popular colors include:
Caledonia Granite:

This is the universal granite shade, featuring bespeckled slabs of charcoal, gray, white, and everything in between. This granite comes from Brazil and goes well in both indoor and outdoor.

Steel Gray Granite:

A more exotic-looking granite from India; it is a darker granite that makes the stone more mysterious and elegant. Given today's modern minimalist kitchens with stainless steel appliances, it can create a sleek complement.

Premium Black or Black Pearl:

Any black shade will have an exquisite and mystifying air. This shade of granite looks great with wood cabinets, as it creates a unique contrast and balance.
Popular Marble Colors and Styles
Every piece of marble is one of a kind, as it is limestone's love child and born out of a unique crystallization process. The most popular shades include:
Carrara marble: Mined from the mountains outside this town in Tuscany, this is a common marble found and used in the United States. It is distinguished by its gray background with a soft and delicate pattern.
Calacatta marble: If you're looking for a white and bright shade, the Calacatta marble might be right up your alley. The lighting-like veins are more vivid and defined. They also come in golden or brown, which makes them pop against the white background.
Statuary marble: Think the stuff of Michaelangelo's David—the stuff of perfection and classic beauty. This type of marble also comes from the Tuscany region. Its defining feature is the contrast between the white field and the darker gray veins.
Popular Quartz Colors and Styles
Quartz has some unique variations that suggest elegance and style. Here are just some of the most popular:
Arctic White:

Want some steep contrast or consistent brightness in your kitchen? Whether you have darker appliances and cabinets or white cabinets, the arctic white is an elegant look.

Calacatta Verona:

This shade has a tint of pink in its splashy markings and patterns. The pattern is bolder and goes well as a contrast with darker cabinets. Other popular Calcatta variations include Calacatta Valentin (grayish-white) and Calacatta Arno Quartz ( a more cohesive gray).

Gray Lagoon:

For a warmer and more soothing tone, the gray lagoon provides a placid and almost quiet shade that goes well with arm-toned furnishings and cabinets.
Still, Deciding? Talk to a Countertop Material Professional Today
If you're still on the fence between one or the other type of countertop material, Eleganzza Granite helps you envision your options. We guide you on how to choose the best countertop material for your home. We're one phone call away.
Talk to a friendly team of experts. Our team has installed every granite, marble, and quartz under the sun. Connect with us today.